GameStop (NYSE:GME), once the larger video game retailer, has been losing ground in recent years. The switch to e-commerce and direct-to-consumer trends led to a steady decline in GameStop's sales. The introduction of cloud-gaming is only adding to the company's problems. On that backdrop, it is not surprising that the stock has been in a multi-year downtrend, as well.
But the general post-March surge took GameStop up with it. The share price is up 512% since early April, climbing from as low as $2.58 to close at $15.80 yesterday. On the last day of November, the stock even touched an intraday high of $19.42. Does this recent strength mean it is now safe for investors to jump in? We have our doubts, based on the Elliott Wave chart below.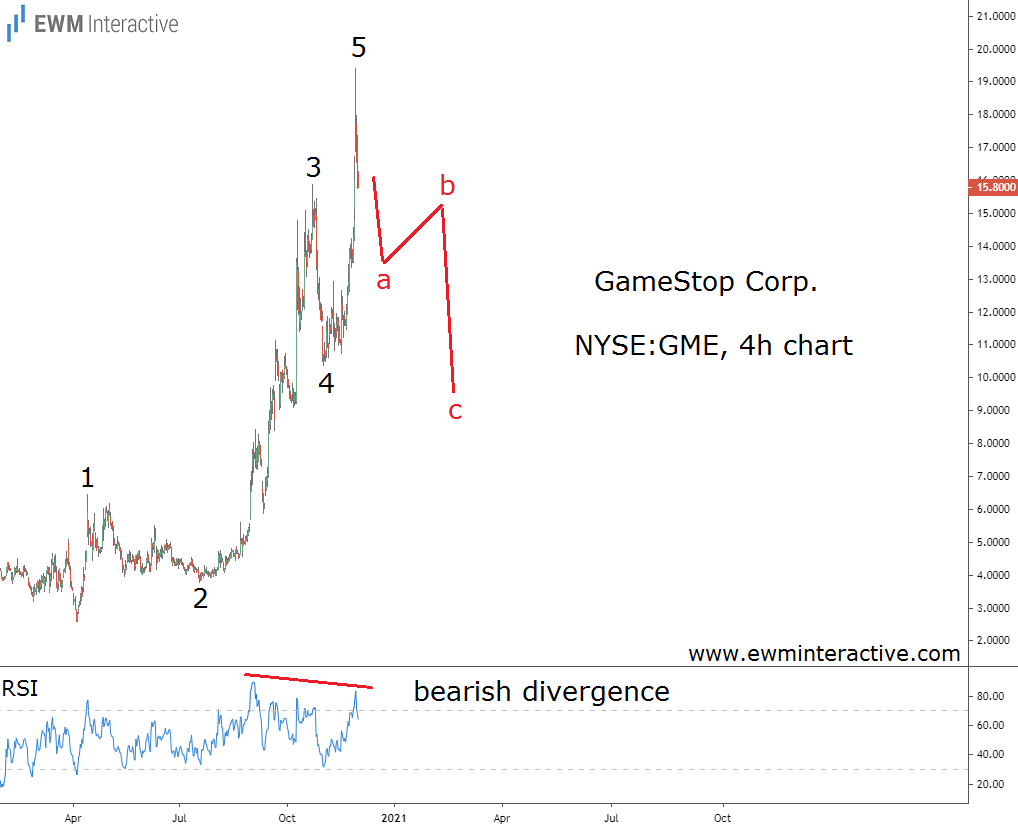 GameStop 4-Hr Chart
The 4-hour chart reveals that GameStop's impressive recovery is a five-wave impulse. The pattern is labeled 1-2-3-4-5 and, according to the theory, suggests a three-wave correction can now be expected. Corrections usually erase the entire fifth wave. In GME's case, this translates into a drop back down to single digits.
In addition to the above-shown pattern, there is also a bearish RSI divergence between waves 3 and 5. If the analysis so far is correct, GameStop can fall ~40% or more from the current price level. In our opinion, investors should be able to find better deals elsewhere.
Leave a comment