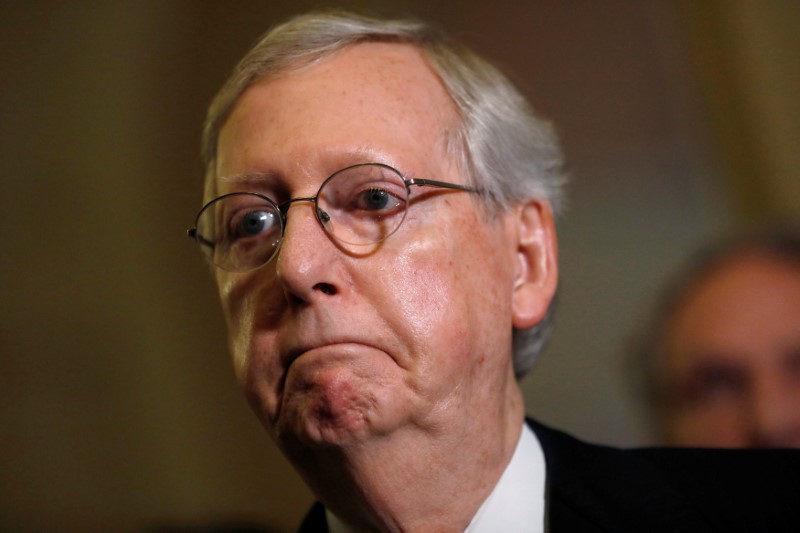 © Reuters.
By Yasin Ebrahim
Investing.com – The Dow cut its gains to turn negative Wednesday, as a fall in technology stocks and a lack of progress over negotiations on Capitol Hill over a stimulus relief package weighed on investor sentiment.
The Dow Jones Industrial Average fell 0.46%, or 139 points after rising by more than 100 points intraday. The S&P 500 was down 0.84%, while the Nasdaq Composite slumped 1.77%.
The toing and froing on efforts to get a stimulus agreement over the line looks set to continue after Senate Majority Leader Mitch McConnel snubbed the White House's $916 billion proposal and said his proposal for a skinny relief bill was brushed off by Democrats.
"With households and businesses under increased pressure as more and more states impose additional restrictions and lockdown measures to control the spread of COVID-19 and Congress set to break on December 18 for the holidays, officials have a limited window to reach an agreement," Stifel Economics said.
The lack of progress on stimulus has been overshadowed by positive vaccine news. But as the rollout of a vaccine nears, Stifel said deliveries this month could fall short of target.
Vaccine deliveries in December could fall short of the 24 million needed to "vaccinate all frontline medical professionals and long-term care residents, raising questions of which high-priority groups will receive the vaccine first," Stifel Economics added.
The Food and Drug Administration is expected to meet on Thursday, to review the Pfizer-BioNtech Covid-19 vaccine after the health watchdog declared the drug had met safety standards earlier this week.
Technology stocks exacerbated the broader market decline as the Fab 5 slipped into the red, led by Apple Inc (NASDAQ:AAPL) as Goldman Sachs (NYSE:GS) reiterated its sell rating on the stock.
Amazon.com (NASDAQ:AMZN), Facebook (NASDAQ:FB), Alphabet (NASDAQ:GOOGL), Microsoft (NASDAQ:MSFT) and Apple slipped more than 1%.
Goldman Sachs kept its sell rating and $75 price target on the stock on concerns average selling price are set to come under pressure.
Energy, meanwhile, was one of the few sectors in the green, but gains were kept in check by falling oil prices following a surprise build in weekly U.S. crude inventories.
In other news, IPO activity continues to heat up as Door Dash surged more than 70% on its stock market debut.
Airbnb makes its debut tomorrow, and demand for stock appears to be running high as the company said it expected to price its public offering above the $56 to $60.
Leave a comment