2020 has turned out to be a blockbuster year for initial public offerings.
The Renaissance IPO ETF (NYSE:IPO)—which tracks a basket of recently listed U.S. companies—rallied a whopping 114.6% year-to-date to reach a series of new record highs in recent days. The S&P 500, for its part, is up just 14.6% over the same timeframe.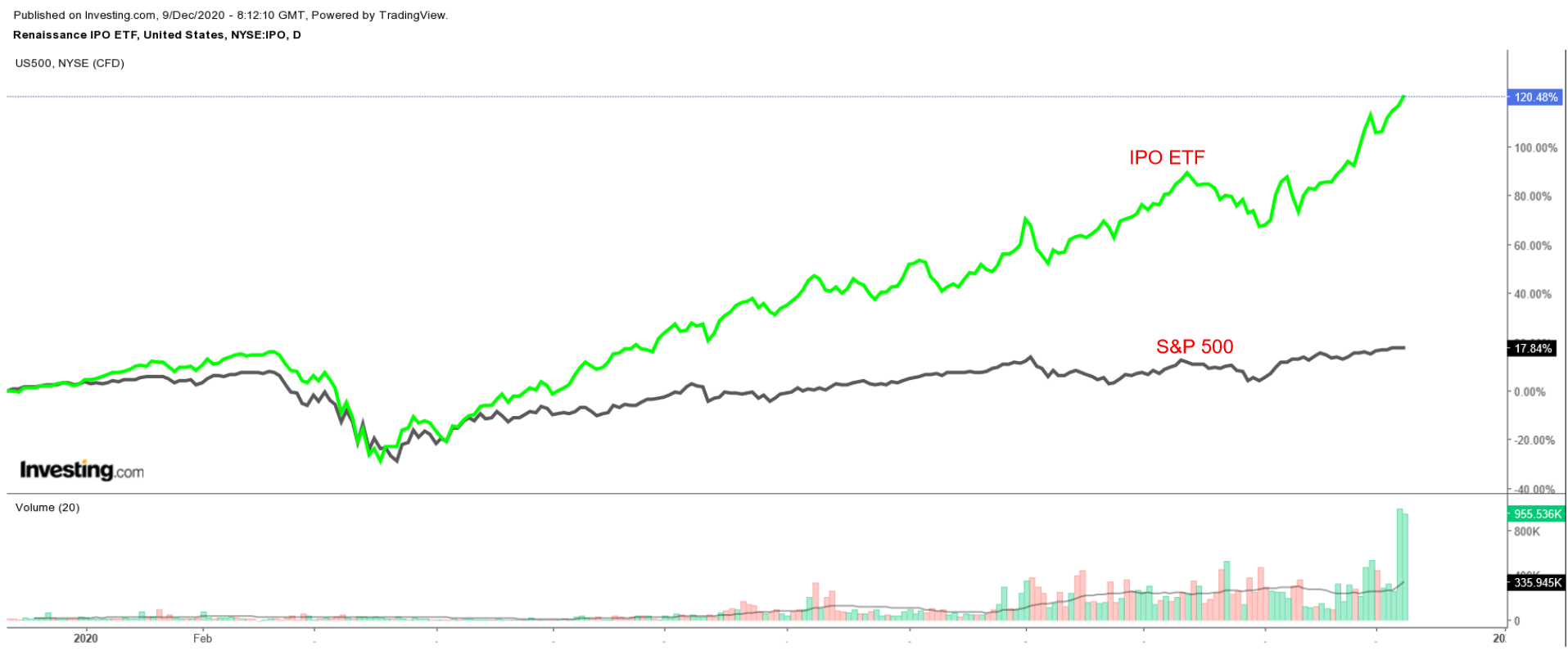 IPO Daily Chart
The busy year for new listings is on track to continue, with Airbnb (NASDAQ:ABNB), the vacation rental online marketplace that has disrupted the hotel industry, and on-demand food delivery service Doordash (NYSE:DASH) both set to go public this week right before 2020 comes to a close.
Below we'll focus on a trio of newly listed tech unicorn IPOs that have more than doubled in valuation since going public this year. All three have the potential to become market leaders in their fields thanks to rapid growth and expanding demand for their products:
1. Snowflake
Trading Debut: Sept. 16
Initial Debut Price: $120.00
Gains Since Going Public: +225%
Snowflake (NYSE:SNOW), whose data warehouse software helps companies manage and share vast amounts of information, made headlines earlier this year when it became the biggest software IPO in history.
The cloud-based data storage and analytics provider priced its shares at $120.00 Sept. 15, however on their first day of trading on Sept. 16, they ending up 112% from that IPO price, at $253.93.
The red-hot stock has shown no sign of cooling down in the weeks following its strong debut, surging to an all-time peak of $428.68 on Tuesday, Dec. 8.
SNOW eventually closed yesterday's session at $390.00, earning the San Mateo, California-based software-as-a-service company a valuation of $94.6 billion.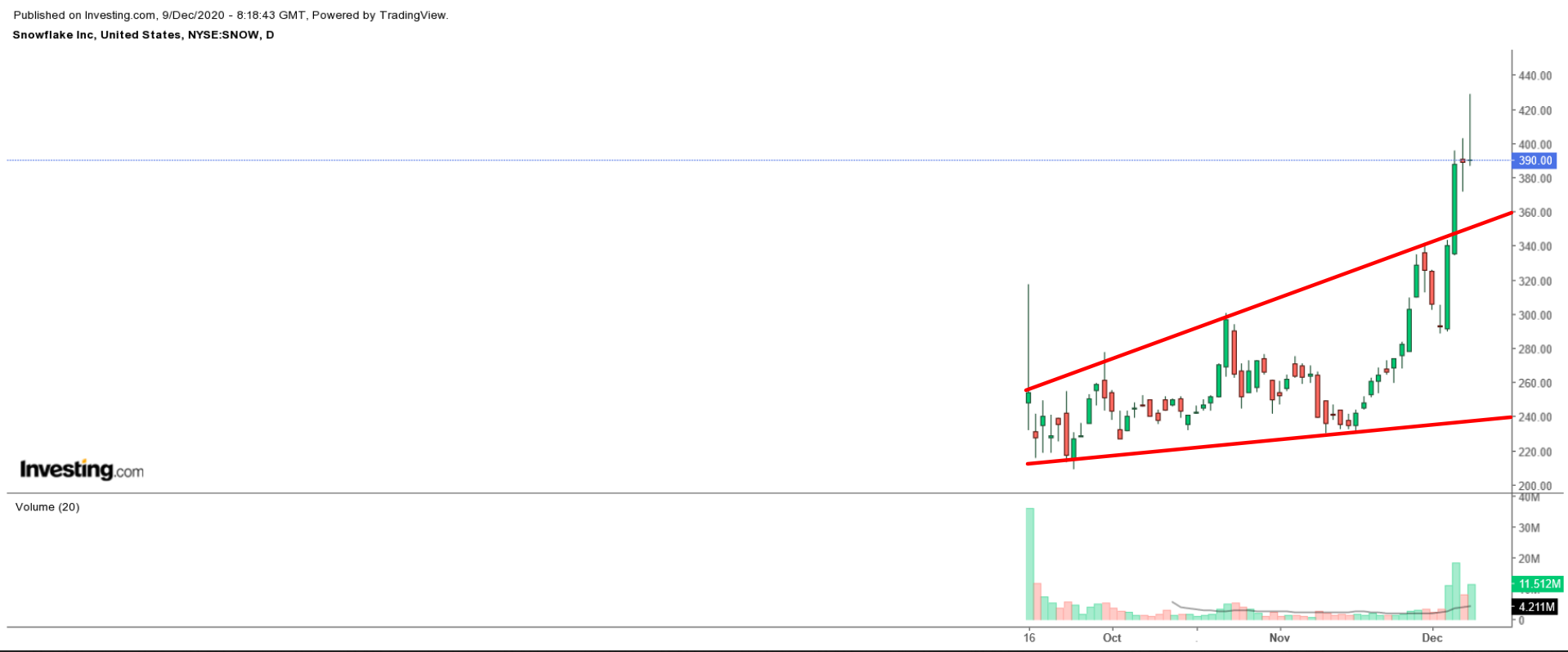 SNOW Daily Chart
Snowflake posted better than expected top-and-bottom line numbers in its first earnings report as a public company on Dec. 2. Losses narrowed from $1.92 per share in the year-ago quarter to $1.01 per share, while revenue jumped 119% year-over-year to $159.6 million thanks to robust customer additions.
As of the end of October, the cloud data warehousing specialist counted about 3,550 businesses and organizations as clients, including seven of the top 10 Fortune 500 companies.
In a sign that bodes well for the future, the cloud database vendor now has 65 customers contributing over $1 million in annual recurring product revenue.
Despite powerful gains and lofty valuations, SNOW stock still looks attractive going forward considering the high demand for its cloud-based services. The fact that both Warren Buffett's Berkshire Hathaway (NYSE:BRKa), (NYSE:BRKb) and cloud giant Salesforce (NYSE:CRM) are investing in the company doesn't hurt either.
2. Palantir Technologies
Trading Debut: Sept. 29
Initial Debut Price: $10.00
Gains Since Going Public: +185.9%
Palantir Technologies (NYSE:PLTR), which provides data-analytics software and services to government agencies and large companies, made its trading debut on Sept. 29 via a direct listing, anticipating an opening price of $10.00 per share.
PLTR stock has since racked up huge gains, rallying 185.9% from its starting price. Shares reached a record high of $31.21 on Sept. 29, before ending at $28.59, giving the Denver, Colorado-based enterprise software company a market cap of $50.1 billion.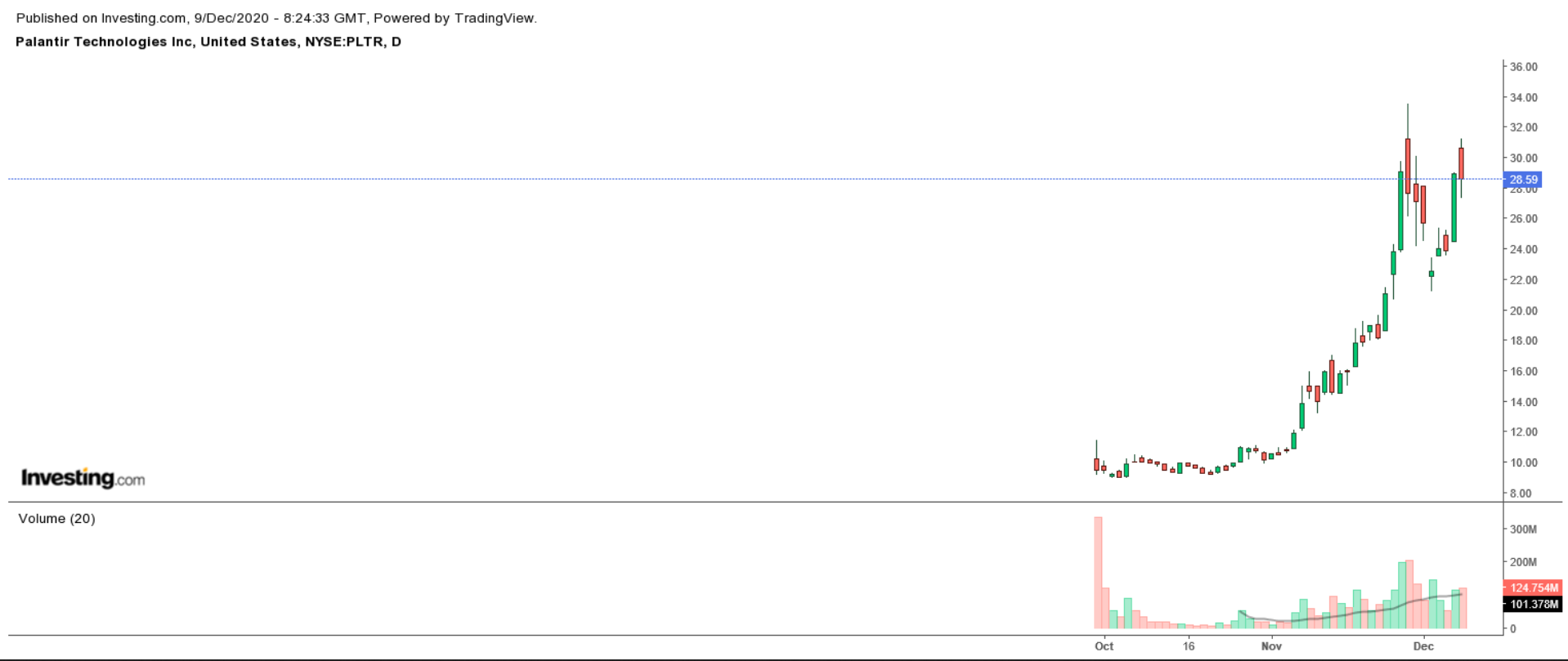 PLTR Daily Chart
Palantir delivered an impressive beat-and-raise quarter in its first earnings report as a public company on Nov. 12, posting a revenue rise of 52% to $289.4 million. The positive results reflected elevated demand for its data-analytics software amid the ongoing coronavirus pandemic.
In a promising sign, the tech company noted that its "customer concentration is decreasing." Palantir reported that 61% of its revenue in the first nine months of 2020 came from its top 20 customers, down from 68% over the same stretch in 2019.
Looking ahead, Palantir boosted its full-year revenue guidance from about $1.06 billion to roughly $1.071 billion, which would represent 44% growth from the same period a year earlier.
With 125 customers, the software maker aims to expand into various other sectors, such as health care, energy, and manufacturing.
Palantir recently won a three-year contract with the U.S. Food and Drug Administration worth $44.4 million, in which it will focus on operating drug reviews and inspections for the agency.
We expect Palantir to continue to prosper thanks to impressive sales growth and greater demand for its high-tech software tools, however, its sky-high valuation leaves it little room for error.
3. Unity Software
Trading Debut: Sept. 18
Initial Debut Price: $52.00
Gains Since Going Public: +221.6%
Unity Software (NYSE:U), which provides tools for creating videogames, made its trading debut on Sept. 18. The San Francisco, California-based company saw its shares rally from its expected opening price of $52 a share by as much as 44% in their first day of trading, before ending up 31.4% at $68.35.
U stock, which has retained its appeal in the weeks following the IPO, closed at an all-time high of $167.25 yesterday, giving the video game software developer a market cap of $43.7 billion.
That is a 221.6% surge from the initial public offering price of $52 per share.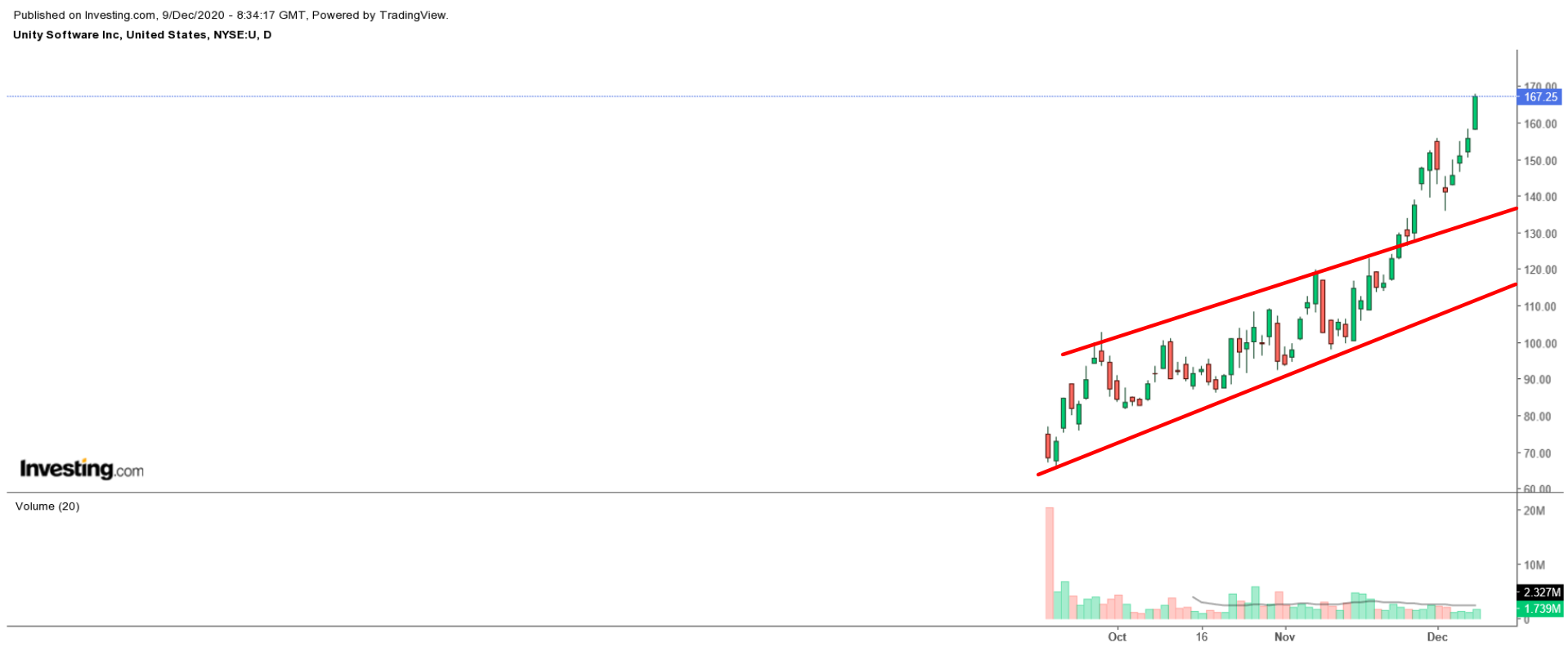 U Daily Chart
Unity reported blowout earnings and revenue in its first quarterly report as a public company on Nov. 12 and provided sales guidance that topped views.
The video game design software maker lost an adjusted $0.09 per share, compared to estimates for a loss of $0.15 per share. Revenue meanwhile grew 53.5% from the year-ago period to $200.8 million, easily surpassing expectations for sales of $186.9 million, reflecting growing demand for its video game development platform.
The number of customers spending $100,000 or more on Unity's platform as of Sept. 30 rose to 739 from 553 a year ago.
For the current quarter, Unity Software sees revenue in a range of $200 million to $204 million. That was well ahead of consensus estimates calling for revenue of $196.1 million. Unity also provided upbeat full-year fiscal 2020 guidance, calling for revenue in the range of $752 million to $756 million. That would indicate a growth rate of 38.8% to 39.5% from the video game software developer's 2019 revenue.
Unity Software's stock still looks attractive heading into 2021, thanks in large part to its accelerating growth and the strong demand it has seen for its video game development tools.
Leave a comment